Company Profile
A great future in line with a great past.
The Company
Production


Assembly, testing and storage of finished products.

Production times
4-8 hours ( depending on the saturati on level of the assembly lines)
Employees


About 64 workers: 6 in the warehouse department, 4 in the qual­ity department, 54 in the assembly department

Work organization


2 shifts, 2 assembly lines, 6 bays, 11 test stations and 2 pre-as­sembly stations

Production capacity


Maximum theoretical 160000 boilers/year

Surface
9.000 sq m indoor and 2.500 sq m for spare parts
Products


Production of more tyan 16 product ranges, with 500 different part nrs and customized for 9 OEM brands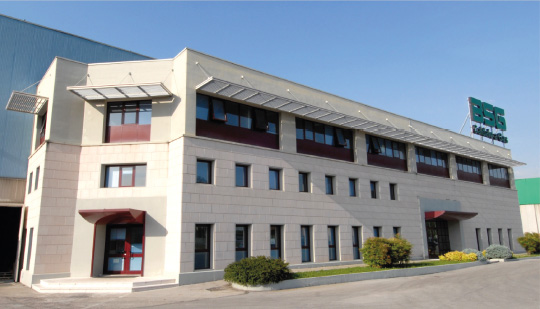 What our values are
Biasi englobes the experience, skills, organization and patents of a company history that started in the 1930s and developed to become an industry professio-nal. For over 80 years we have been operating in the heating industry, investing in Italy and abroad looking for solutions for comfort in the domestic and professional industries. Today our offer covers all market segments: from wall-hung boilers to goal of maximum reduction of consumption, focusing mainly on renewable energy.
Today the Biasi Group is a multitasking team of professionals that combi-nes Italian creativity with passion and dedication to teamwork.
Quality, technology and reliability
A strongly integrated and coordinated process of the whole company allows to have high levels of quality in the products and the service provide.
Project, design, industrialization, all the strategic phases are carried out in the factories and laboratories either owned or controlled by BSG.
Constant research and innovation
Not only the final product but also the components are developed, analysed and tested in our test benches. The constant research work has allowed us to renew the technological heart of our boilers. We have introduced a state-of-the-art condensing exchanger and hydraulic units with low pressure drops. Among the latest protagonist of innovation, the systemic integration between our prducts also through the IOT products. Comfort can be managed remotely by making different products interact in an integrated and dynamic way.
Italian design
We constantly design and improve our products. We develop and produce exclusive components designed specifically for our customers. We assemble them in our assembly lines, we check the quality at each step of the process. The value of Made in Italy is in every detail.
Logistics
BSG pays the utmost attention to ensuring efficient and reliable management of the logistical aspects of production, using the most advanced procedures and technologies for the receipt, control, storage, recording and traceability of production batches.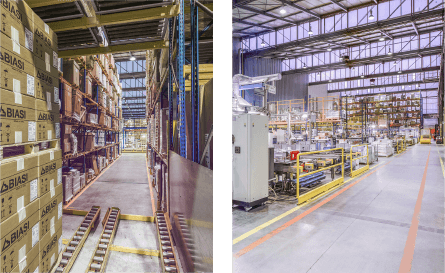 Customer care and flexibility
Customer satisfaction is the priority. To do this we have organised ourselves to be extremely flexible and efficient: we can make up to 20 production changes in one day. We ensure aesthetic and design customizations.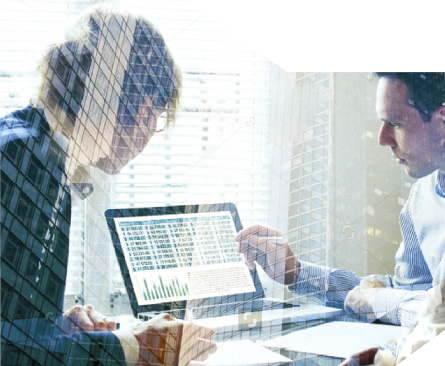 Our history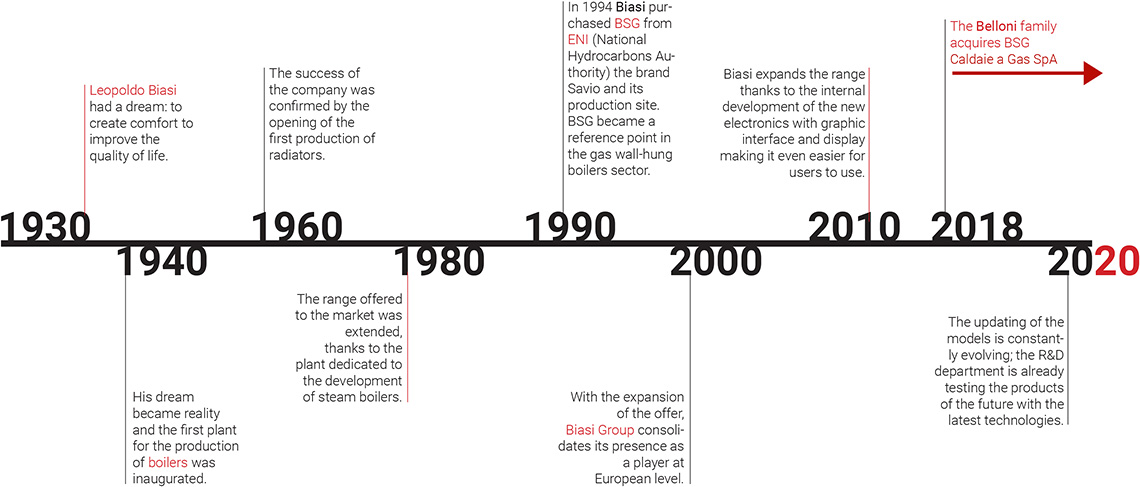 Sustainability plastic-free
The company's goal is to create efficient and environmentally friendly products. Achieving this goal means seeking, in our daily work, innovative solutions to reduce energy consumption and invest on integrated systems using renewable energy for eco-sustainable projects. Since 2020 all plastic components, including the packaging ones, will be replaced with eco-compatible materials, giving birth to the first 100% plastic- free-boilers.
Safety first
NIn our testing stations, we test every single unit at the fac-tory, so we can guarantee to the cu-stomer a functional and safe product.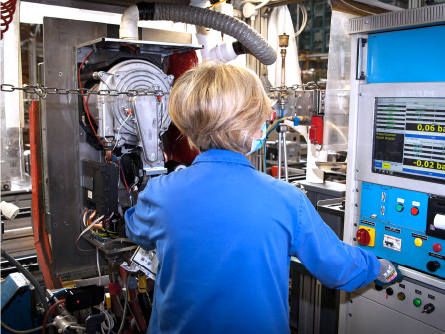 Asset
Today Biasi is in over 30 countries, with two subsidiaries in England and Hungary, and through partner distributors in other countries; touching all continents and supporting each customer with care and dedication. Thanks to a network of professional co-workers, we offer the most advanced technological solutions and a consulting service for a cersurtain e choice and a safe installation. Design, production, support, service: the world of Biasi is at your fingertips.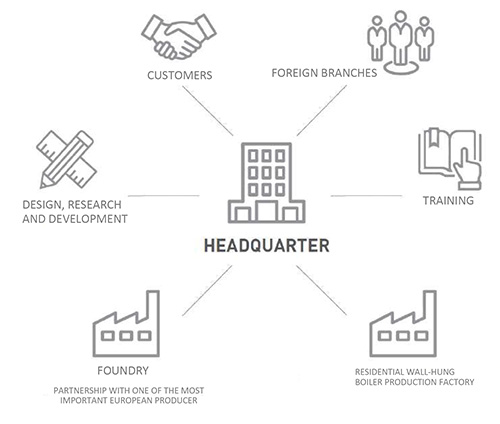 Sales network
Numbers that matter
Our wall-hung bolirers' factory is equipped to:
produce up to 160,000 boilers per year
produce 500 different part numbers
produce more than 16 product ranges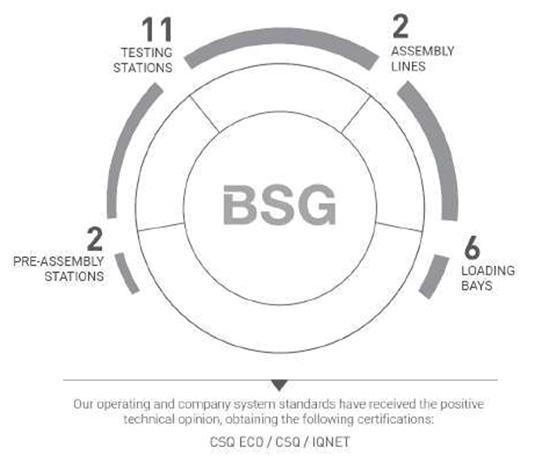 Our service
Sale and costumer service
Service Centres
Agencies
Points of sale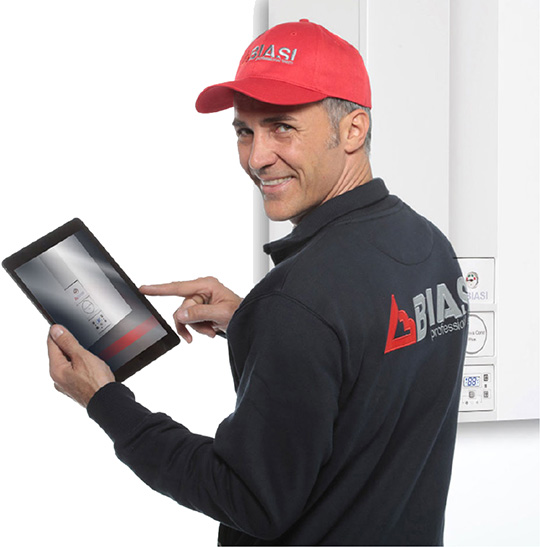 Training
Over the years we have developed a wide network of skills and services to make it as easy as possible for our customers to use and sale our products.

To date in Italy on the national territory:
We have 8 training rooms for installeers and service centers
We guarantee presales assistance with a dedicated office and after-sales service on products with 800 Service Centres distributed throughout the country.
Abroad we guarantee training at our representative branches and partners' premises.
Write us if you would like more information