Antares 35S
High efficiency condensing boilers, sealed chamber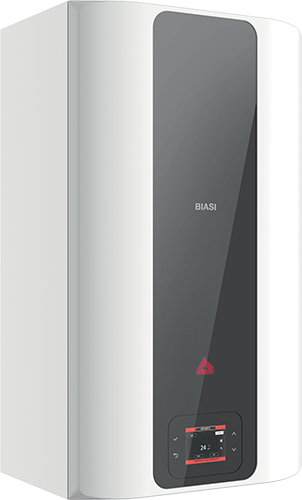 1:10 MODULATION

35 kW

HEATING FLUID

SANITARY DHW

17.2 L/MIN SANITARY DHW PRODUCTION

NATURAL GAS / LPG

GAS ADAPTIVE

MULTI-ZONE MANAGEMENT WITH RF / MODBUS KIT

ENERGY CLASS
Technical data
Documentation
Request info
Available in combination versions for heating and DHW production, Antares has a complete heat output range – 25, 30 and 30 kW models – all with very compact dimensions.

High performance due to its innovative CERAMAT℗ ceramic fibre heat exchanger, designed to provide high efficiency without degradation over time.
Easy to use thanks to the digital control panel with a large display, designed to communicate with the user in an easy and convenient manner.

Antares is an energy class A and energy class A+, in other words the highest energy efficiency level achievable with a boiler.
eGarc Combustion Solution heat engine technology
Lower consumption, greater efficiency, lower emissions
The innovative CERAMAT℗ ceramic fibre burner guarantees combustion in a completely electronic manner. The new eGarc Combustion Solution technology, which all models in the Antares range are equipped with, allows the boilers to adapt to different types and qualities of gas in a completely automatic manner. As well as detecting the flame, the electrode also detects the characteristics of the gas and automatically adapts the combustion parameters to maintain maximum efficiency, with a consequent reduction in consumption and emissions compared to traditional control systems. The eGarc Combustion Solution system makes the boiler ready for operation with any type of gas without any modifications.
Innovative ceramic fibre burner
Combustion like you've never seen before
Ceramat is made from a high-performance conductive ceramic fibre material with a cutting-edge ceramic coating process which offers unique advantages, permitting the optimisation of existing combustion systems and the development of more efficient solutions.
The ceramic properties of the fibre, along with an innovative process, create an electrically conductive, self-supporting and tough burner with high porosity, allowing it to offer a number of advantages over existing solutions available on the market.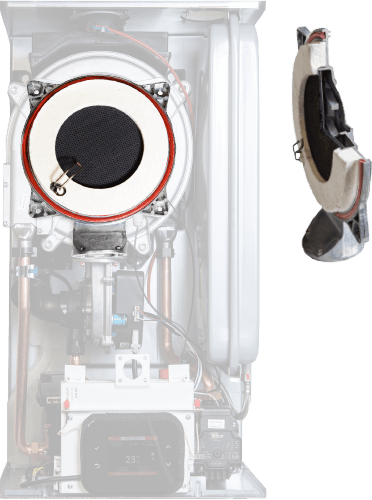 Benefits
Long lifetime
Ceramat fibres can withstand temperatures of over 1,000ºC, due to which corrosion in Ceramat burners is practically non-existent over time and does not affect the application's performance throughout its service life.
Very quiet operation
The fibre structure and porosity combined with flame-pattern customisation possibilities offers reductions in both high- and low-frequency noises.
Modulation
Takes system modulation another step forward, even for gas adaptive solutions.
Flame stability
Highly stable combustion in all working conditions with all gas families, including hydrogen.
Low emissions
The flexibility of adaptation of the combustion surfaces makes it possible to optimise the burners to achieve extremely low CO and NOx values, increasing performance and reducing the environmental impact.
Light weight and reduced dimensions
Thermal insulation
Surface temperatures of over 1,000ºC are not transmitted to the inner layers, minimising the risk of flashback and increasing gasket lifetime by reducing the temperature of the burner casing.

Remote temperature control

Advanced connectivity of ANTARES
For environmental comfort management
Thanks to the advanced connectivity supplied as standard with Antares, the end user will be able to manage through Biasi App the room temperature, sanitary, weekly programming and the functioning status of the boiler. The WI-FI connectivity will allow the end user to interact with the boiler through voice assistants (Google Home, Alexa etc.) and through smartphone (Siri and Bixby).
Connectivity Pluses
Reduced consumption, energy savings and extreme flexibility: flexible control to meet individuals' needs and daily habits. You can also adjust the hot water temperature with a simple click.
Awareness of your system: you can always check correct operation of the boiler in real time.
Safety: Any faults can be seen in real time, together with the corresponding error code. This allows for immediate intervention, even remotely where possible.
For the best transmission and reception of the signals, two antennas must be installed on the boiler (one for WiFi and one for RF), connected with MTC.

In the event that the boiler is installed in an external recess or niche, in a plant room or on another floor such as in a cellar, the boiler will be hard-wired (RS485) to a complete MTC (RF & WiFi) installed on the wall inside the main residence. The 868 MHz RF module allows MTC to communicate wirelessly with the other components of the system, for single zone and multi-zone management (such as wireless room probe, wireless thermostatic valves, wireless zone managers, etc.).
Technical features
Instantaneous sanitary DHW production with larger plate heat exchanger
DHW preheat function: faster supply of sanitary domestic hot water
User interface with touchscreen display and multifunction buttons for regulation and setting of parameters
Easily inspectable bypass as standard
Flue protection system: electronic management of flue gas overheating, ensuring maximum protection for the boiler
Minimised pollutant emissions (class VI - EN 15502-1)
Rolling temperature operation via optional external probe
High-efficiency modulating heating circulation pump (ErP Ready - Class A)
Digital flame control with three restart attempts in the event of operational stoppage due to lack of flame detection (natural gas configuration)
Three-piece removable casing for simplified inspection or maintenance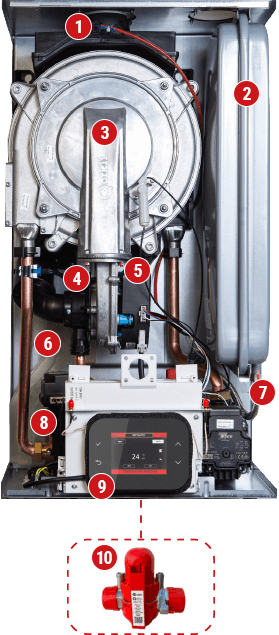 1.

Dual fumes safety sensor

2.

10 litre expansion tank

3.

Heat engine with CERAMAT℗ burner

4.

Air/Gas mixer with silencer

5.

Fan

6.

Condensate trap

7.

Monocoque steel frame

8.

Brass hydraulic unit

9.

Control panel with eGarc Combustion Solution electronics

10.

Adaptive Gas Valve
Heat engine
The ORKLI group, an internationally active company thanks to its technological and industrial components, has created various centres of excellence for R&D on innovative technologies to equip gas combustion heat generators.

Synergies have been created between the research centres for combustion (Ceramat ceramic fibre burners and Modulo electronic gas valves), with Valmex for Circond steel heat exchangers, and the Giordano Controls electronics centre of excellence, with the LISA Cloud-connected automatic combustion control system for remote comfort control and predictive maintenance.
The combustion system made up of these exclusive components is known as the "HEAT ENGINE" and has been developed, tested and refined with the incorporation of these different technologies, all drawn from within the group.
The HEAT ENGINE allows boilers to achieve higher performance than versions currently on the market. The boiler can be fed with different gases, thanks to the AUTO-ADAPTIVE GAS function.
The installation time is significantly reduced, and the commitment and responsibility of the installer is reduced thanks to the automatic adaptation which eliminates the need to make mechanical settings on the boiler (gas valve).
Above all, performance in terms of controlled emissions and efficiency make this new boiler fit in with the growing awareness of the need for ecological and energy saving technologies.

These are the Technologies Inside which bring BSG boilers to the cutting edge of new domestic and environmental comfort systems and make them amongst the most innovative and eco-friendly.
Gas Adaptive Technology
Automatic gas regulation
Adaptation to changes in gas quality
Clean combustion
One single model suitable for natural gas and LPG, allowing for warehouse optimisation
In traditional boilers, the combustion values are measured and regulated only during servicing. The composition of the mains gas supply is not always constant, and can create operational inefficiencies in boilers without combustion regulation devices, compromising their reliability, savings and emissions quality.
Thanks to the eGarc Combustion Solution, the new condensing boilers control the combustion electronically, which allows them to best manage the gas and air supply at any time, automatically adapting the CO2 level.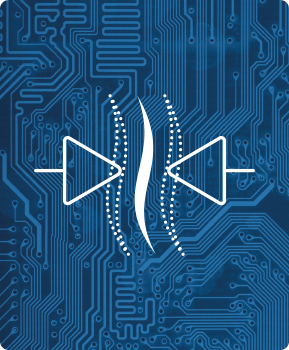 A Plastic-FREE manufacturing
For environmental sustainability
An important characteristic element of the entire design phase of the new Antares boiler is a strong focus on the circular economy.
This is why we have used components with a higher recycling rate, eliminating the use of plastic as much as possible. The plastic assembly, for example, has been replaced with a brass assembly, which is fully recyclable. The protective packaging inserts are made of cardboard instead of polystyrene.
Control panel
Winter/Summer/Off selector
Heating temperature regulator
DHW temperature regulator
Digital pressure reading
Screen display of DHW and heating temperature
Display of fault diagnostics, lockout conditions and fault log
Display of annual maintenance expiry
DHW pre-heating enablement
The display works in the following modes:
INFO
Info mode displays the following information:
- DHW/heating temperatures
- Flue gas temperatures
- DHW flow rate
- Fan speed
- Months remaining until service
- Pump modulation percentages
- Outdoor temperature (in case of connected outdoor probe)
PROGRAMMING
The programming mode allows you to modify the boiler parameters.
• BOILER PARAMETERS
Modification of boiler parameters
• FLUE CLEANING
Possibility of setting 4 levels of boiler operation for combustion checks
• CALIBRATION
Automatic boiler calibration
• HYDRAULIC CIRCUIT DEAERATION
Facilitation for deaeration of the system in the installation phase
• HISTORY
List of errors recorded by the boiler during operation operation
• Transfer of combustion parameters to spare board without need for recalibration
• K value (with external probe connected)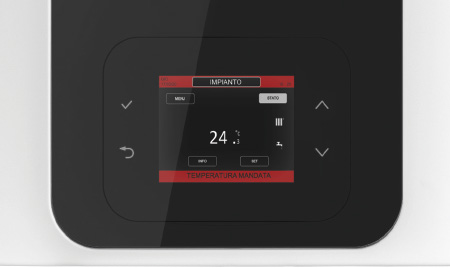 Temperature Regulation
By using the external probe and the remote control (optional) directly connected to the boiler, it is possible to use climatic control. Antares will adjust the water temperature in the system to external climatic conditions, ensuring the desired ambient temperature is reached without any wastage and optimising consumption.
The use of climate regulation also produces a rise in the regulation efficiency, increasing the value of your home.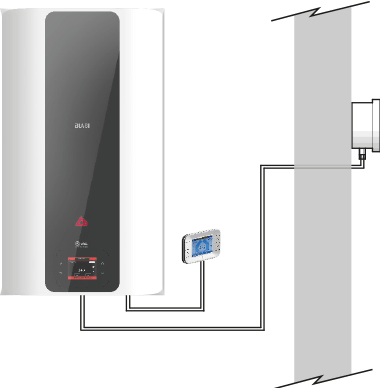 Zone management
In the case of multi-zone h ystems, one zone can be managed by remote control and the other zones can be managed by timer thermostats. This allows each zone to be managed with its temperature regulation curve and the corresponding ambient probe.
High circulation, mono spiral primary heat exchanger
Biasi introduced the Round heat exchanger in 2017. With its high level of reliability proven, it was adopted in the Antares. Round is a compact monothermal heat exchanger based on a stainless-steel coil with an oval cross-section.

The heat exchanger consists of a combustion chamber, condensing zone and an insulated metal disc protected with silicon glass fibres separating the two areas. The use of a single stainless-steel belt to produce the coil, including the input/output connections, provides the following advantages:
Accumulation of dirt and debris is prevented
Water flow rate is distributed evenly and ensures a uniform thermal exchange
The water flow rate is constant for the entire service life of the product
Reduction in the head losses with optimised circuit
The robustness and ease with which these heat exchangers can be cleaned are just two of the strengths of the product given that it can be used on new installations as well as on an old systems in the case of a swap-over.

Round integrates the round flow function in which the water produces a centrifugal effect for cleaning the internal walls of the mono spiral. The fact that there are no parallel circuits ensures easy "washing" operations of the heat exchanger and the elimination of any air present in the installation circuit.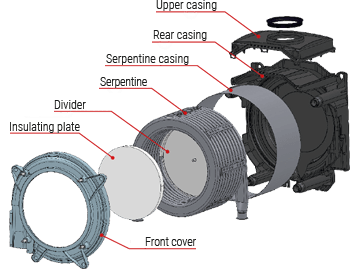 Technical data
Nominal heating/DHW heat input
kW
31.0 / 34.9
Minimum heat input for heating/DHW
kW
3.5 / 3.5
Maximum usable heating/DHW power 60°/80°C *
kW
30.7 / 34.5
Minimum usable heating/DHW power 60°/80°C *
kW
3.3 / 3.3
Maximum usable heating/DHW power 30°/50°C **
kW
33.6 / 37.9
Minimum usable heating/DHW power 30°/50°C **
kW
3.7 / 3.7
Quantity of condensate at Q.nom. 30°/50°C (in heating mode) **
l/h
5.6
Quantity of condensate at Q.nom. 30°/50°C (in heating mode) **
l/h
0.6
Nom. efficiency 60°/80°C *
%
98.9
Min. efficiency 60°/80°C *
%
95.4
Nom. efficiency 30°/50°C **
%
108.5
Min. efficiency 30°/50°C **
%
105.8
Efficiency at 30 % load **
%
109.8
Energy efficiency ηs
%
94
Thermal losses at the flue with burner in operation
Pf (%)
0.9
Thermal losses at the flue with burner turned off ΔT 50°C
Pfbs (%)
0.2
Thermal losses to the environment through the casing with the burner in operation
Pd (%)
0.9
Weighted NOx [Hs] ***
mg/kWh
32
Minimum/maximum heating temperature ****
°C
25 / 85
Minimum/maximum heating pressure
bar
0.3 / 3.0
Available heating head (at 1000 l/h)
mbar
420
Expansion tank capacity (total/usable)
l
10
Minimum/maximum DHW temperature
°C
30 / 60
Minimum/maximum DHW pressure
bar
0.5 / 10.0
Maximum flow rate (Δt = 25 K) / (Δt = 35 K)
l/min
20.6 / 14.4
Specific DHW flow (Δt = 30 K) *****
l/min
17.2
Voltage / power draw at nominal heat input
V~/ W
230 / 107
Power draw at minimum heat input
W
56
Power draw in stand-by
W
4
Ingress protection rating
IPX5D
Minimum/maximum flue gas temperature#
°C
68 / 84
Minimum/Maximum flue gas mass flow rate #
kg/sec
0.0017 / 0.0162
Minimum/maximum air mass flow rate #
kg/sec
0.0016 / 0.0156
Max. length of coaxial flue outlet (Ø 60/100 mm / Ø 80/125 mm)
m
10 / 12
Max length of twin flue exhaust (Ø 80+80 mm)
m
40
Height x Width x Depth
mm
700 x 400 x 300
Water contents of the boiler
l
2.5
* With return water temperatures that do not allow condensation.
** With return water temperatures that allow condensation.
*** With coaxial flue outlet 60/100 L 0.9 m and G20 natural gas.
**** At minimum usable power.
***** With reference to EN 625.
# Values relate to tests with 80 mm 1 + 1 twin flue and G20 natural gas.
Documentation