RinNova Adaptive Fast 30S
High-Efficiency Condensing Boilers with micro-storage tank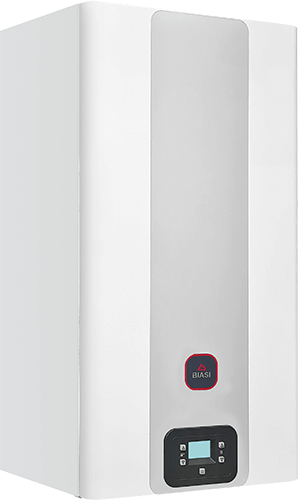 MODULATION 1:9

30 kW

HEATING WATER

DOMESTIC WATER

14,7 L / min (DHW)

NATURAL GAS / LPG

GAS ADAPTIVE

ENERGY RATING
Technical data
Documentation
Request info
RinNova Adaptive FAST is the new range of BIASI wall-mounted condensing combination boilers with heat exchanger/micro-storage tank.
Thanks to its modern lines, it is easily installable in domestic environments and features a high level of comfort in terms of sanitary hot water production.
The exclusive sanitary DHW heat exchanger with four-litre micro-storage tank ensures immediate supply of hot water, even with small draw-offs, and high temperature stability.
The innovative electronic system which manages the combustion is able to adapt independently to different gas types, guaranteeing safe, efficient combustion at all times.

Available in 25 kW and 30 kW combi models, with dimensions of 800 x 400 x 385 mm.
Both versions of RinNova Adaptive Fast are energy class A appliances, and thus eligible to meet requirements for tax credits and/or incentives in some countries.
Remote temperature control

Comfort at your fingertips
"Biasi Connect" KIT and App
Biasi Connect
Thanks to the BIASI Connect App, it is possible to control the boiler remotely. To use it is necessary to have the Biasi Connect KIT in addition to the advanced remote control. The evolved control (class V) allows modulating the water flow temperature of the system according to the room temperature and the outside temperature.

What are the advantages?
Reduction of consumption, energy saving and extreme flexibility: the control is flexible according to one's needs and daily habits. Needs and daily habits. You can also regulate with a click the temperature of the hot water
Awareness of your installation: you can always Real-time monitoring of the correct operation of the Operation of the heat generator
Safety: You can see in real time any anomalies can be seen in real time, together with the corresponding error code. Thus, you can intervene immediately and when possible remotely
"BIASI Connect" Kit
Is a WiFi "Connection Device" which, operating in the domestic WLAN network, allows the control of the room thermoregulation and of the boiler operation, both locally and remotely, through our dedicated APP.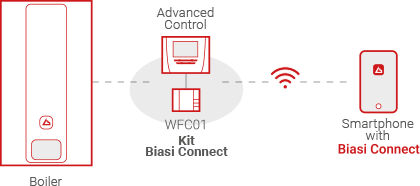 Simplicity of installation and use
For the installation of the "BIASI Connect" kit and for the configuration and use of the the use of the App, please consult the instruction, installation and use of ''Biasi Connect".

The App can be downloaded from the store of your device: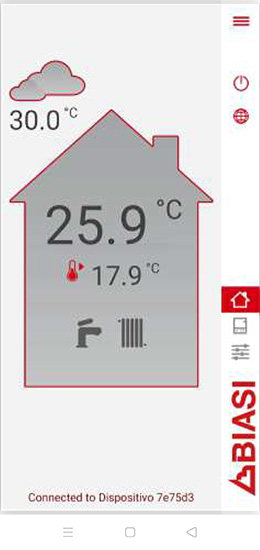 The ''home'' screen shows the room temperature and system status. On the right the menu side status.
The Timing allows you to set a time period of time for which we can vary the status of the system and temperatures.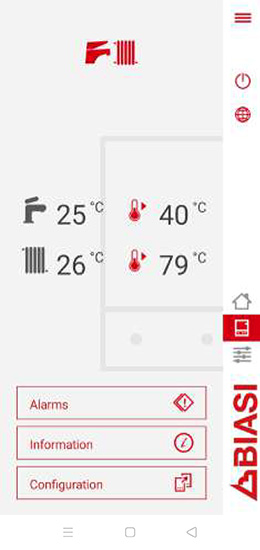 The ''Boiler'' screen displays the status of the temperatures and other information about the boiler.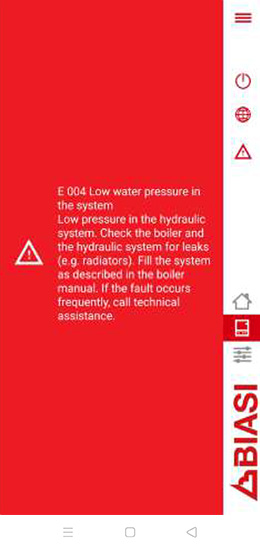 Example of an error reported by the App, with explanatory text.
Plus
10 litre expansion tank
High level of DHW comfort
Heat exchanger with micro-storage tank
Immediate hot water response
High temperature stability
High level of modulation up to 1:9 / with e-garc (combustion control -> low CO and NOx emissions)
Electronic combustion control = low NOx emissions
FAST function: the temperature of the storage tank varies on the basis of the DHW setpoint, but it is also possible to increase the maintenance temperature of the storage tank as desired. Can be programmed with the advanced control system to define the hours of use
New ultra-low noise mixer
Low-consumption modulating circulation pump
Pressure transducer
Reading of DHW flow rate with operation down to 2.0 l/min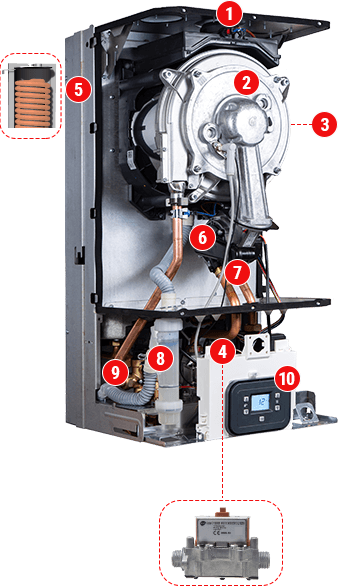 1.

Dual fume safety sensor

2.

Combustion unit

3.

10 litre expansion tank

4.

Adaptive Gas Valve

5.

Micro-storage tank

6.

Ultra-quiet mixer

7.

Fan

8.

Condensate trap

9.

Brass hydraulic unit

10.

Control panel with Adaptive Gas electronics
New Heat Exchanger/Micro-Storage Tank
A solution for unique levels of comfort
The exclusive DHW heat exchanger with micro-storage tank offers storage of four litres of hot water, guaranteeing the immediate availability of sanitary hot water without the oscillations of a normal instantaneous boiler during the start-up phase; it is made from steel and copper with EPS insulation to reduce heat losses in stand-by, an exclusive system which keeps the heat exchanger/micro-storage tank at temperature at all times. During DHW demand, the boiler switches to instantaneous production in accordance with the demand from the terminal devices, following which it is already at the set temperature, ready for the next draw-off.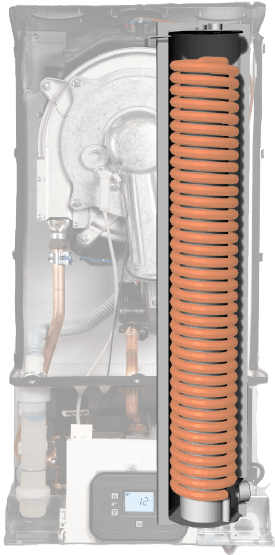 Gas Adaptive Technology
Less consumption, less efficiency, less emissions
The innovative Adaptive Gas technology, which all Rinnova all models in the Rinnova range are equipped with boilers to different types and qualities of gas. As well as detecting the flame, the electrode also detects the characteristics of the gas and automatically adapts the combustion parameters to maintain maximum efficiency, with a consequent reduction in consumption and emissions compared to traditional control systems. The Adaptive gas system makes the boiler ready for operation for operation with any type of gasa without any transformations.
Automatic gas regulation
Adaptation to gas quality change
Clean combustion
Only one model suitable for natural gas and LPG, that allows to optimize the warehouse
In traditional boilers the combustion values are detected and adjusted only when undergoing a maintenance. Moreover, the composition of mains gas is not always constant, and it can cause inefficiencies in the operation of the boilers that have no combustion control devices, undermining the reliability, the savings and the quality of emissions. Thanks to the Gas-Adaptive system, the new BTP condensing boilers control the combustion electronically, which allows them to best manage the gas and air supply at any time by automatically adjusting the CO2 level.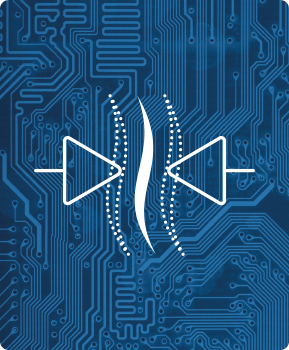 A Plastic-FREE production
For a sustainable environment
An important element that has managed the entire design phase of the new Rinnova Adaptive boiler is a strong focus on the circular economy. This is why we used components with a higher recycling rate, eliminating the use of plastic as much as possible. The plastic assembly, for example, has been replaced with a brass assembly, which is fully recyclable. The boiler shells are made of cardboard instead of polystyrene.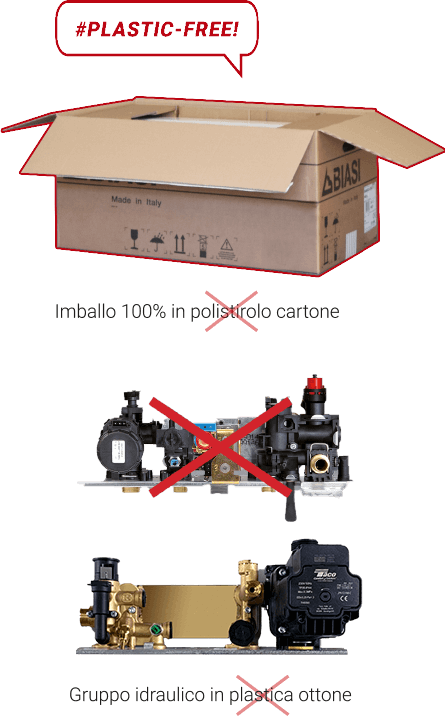 General Layout and System Diagram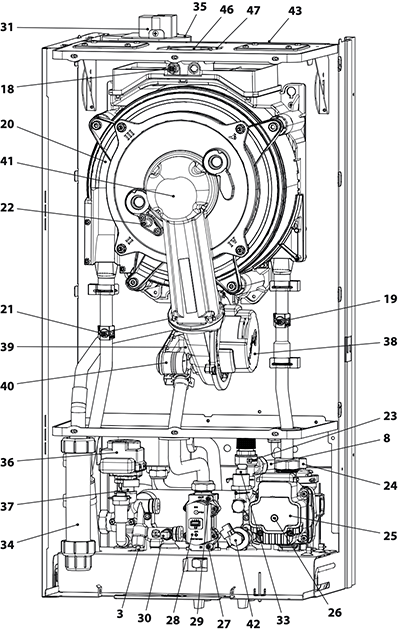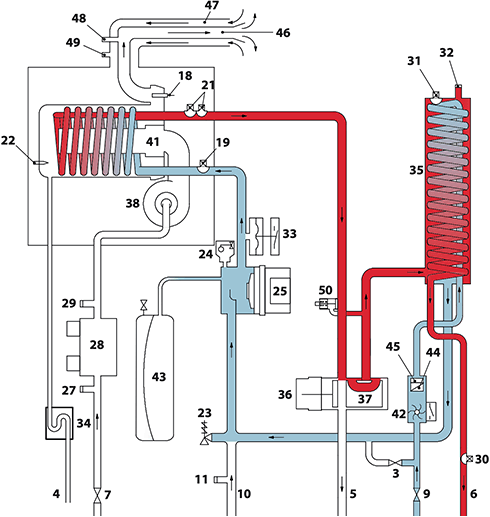 3.

Heating circuit filling cock

4.

Condensate discharge line

5.

Heating flow line

6.

Sanitary DHW outlet

7.

Gas cock

8.

Heating circuit safety valve discharge line

9.

Cold water inlet cock

10.

Heating return line

11.

Heating circuit drain cock

18.

Fume NTC sensor and fume thermal fuse

19.

Heating return NTC sensor

20.

Primary condensing heat exchanger

21.

Heating flow NTC sensor - Max temperature NTC

22.

Flame detection electrode / Ignition electrode

23.

Safety valve (3 bar)

24.

Automatic bleed valve

25.

Pump

26.

Pump bleed cock

27.

Gas valve inlet pressure port

28.

Gas valve
29.

Gas valve outlet pressure port

30.

Sanitary DHW NTC sensor

31.

Micro-storage tank NTC sensor

32.

Micro-storage tank manual bleeder

33.

Heating transducer

34.

Condensate discharge trap

35.

Sanitary DHW micro-storage tank

36.

Three-way valve

37.

Three-way valve shutter

38.

Fan

39.

Air/Gas mixer

40.

Silencer

41.

Burner

42.

Sanitary DHW flow meter

43.

Expansion tank

44.

Sanitary DHW filter

45.

Sanitary DHW flow rate limiter (optional)

46.

Fume discharge duct

47.

Air intake duct

48.

Fume test port

49.

Air test port

50.

Integrated bypass
Technical data
Nominal heating/DHW heat input
kW
25,0 / 30,0
Minimum heat input for heating/DHW
kW
3,0 / 3,0
Maximum usable heating/DHW power 60°/80°C *
kW
24,6 / 29,5
Minimum usable heating/DHW power 60°/80°C *
kW
2,9 / 2,9
Maximum usable heating/DHW power 30°/50°C **
kW
26,9 / 32,3
Minimum usable heating/DHW power 30°/50°C **
kW
3,2 / 3,2
Quantity of condensate at Q.nom. 30°/50°C (in heating mode) **
l/h
4,8
Quantity of condensate at Q.min. 30°/50°C (in heating mode) **
l/h
0,5
Nom. efficiency 60°/80°C *
%
98,4
Min. efficiency 60°/80°C *
%
95,1
Nom. efficiency 30°/50°C **
%
107,7
Min. efficiency 30°/50°C **
%
105,6
Efficiency at 30 % load **
%
109,7
Energy efficiency ηs
%
94
Thermal losses at the flue with burner in operation
Pf (%)
1,3
Thermal losses at the flue with burner turned off ΔT 50°C
Pfbs (%)
0,3
Thermal losses to the environment through the casing with the burner in operation
Pd (%)
0,7
Weighted NOx [Hs] ***
mg/kWh
51
Minimum/maximum heating temperature ****
°C
25 / 80
Minimum/maximum heating pressure
bar
0,3 / 3,0
Available heating head (at 1000 l/h)
mbar
340
Expansion tank capacity (total/usable)
l
10
Minimum/maximum DHW temperature
°C
35 / 55
Minimum/maximum DHW pressure
bar
0,5 / 10,0
Maximum flow rate (Δt = 25 K) / (Δt = 35 K)
l/min
17,6 / 12,3
Specific DHW flow (Δt = 30 K) *****
l/min
14,7
Voltage/power draw at nominal heat input
V~/ W
230 / 124
Power draw at minimum heat input
W
52
Power draw in stand-by
W
3
Minimum/maximum flue gas temperature#
°C
41 / 82
Minimum/Maximum flue gas mass flow rate #
kg/sec
0,0014 / 0,0139
Minimum/maximum air mass flow rate #
kg/sec
0,0013 / 0,0134
Max. length of coaxial flue outlet (Ø 60/100 mm / Ø 80/125 mm)
m
10 / 12
Max length of twin flue exhaust (Ø 80+80 mm)
m
40
Height x Width x Depth
mm
800 x 400 x 385
Water content of the boiler
l
5,4
* With return water temperatures that do not allow condensation.
** With return water temperatures that allow condensation.
*** With coaxial flue outlet 60/100 L 0.9 m and G20 natural gas.
**** At minimum usable power.
***** With reference to EN 625.
# Values relate to tests with 80 mm 1 + 1 twin flue and G20 natural gas.
Documentation